Headstart and Universal Pre-K Solutions: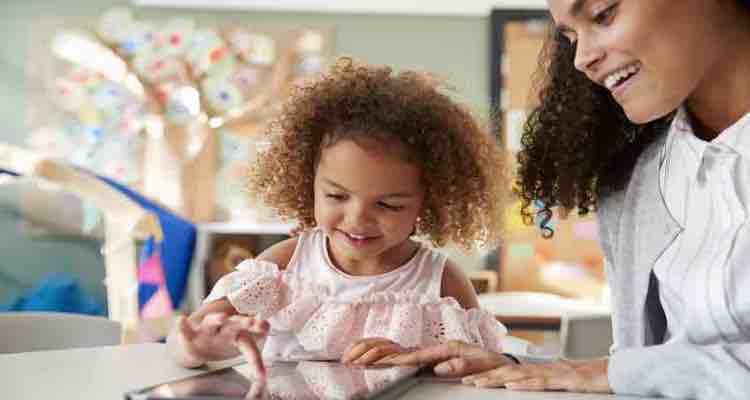 Family Literacy
Motivates parents and their children to master their reading and writing skills by providing a parallel experience for children ages 5-10 learning alongside their parents or relatives. Depending on their relationship, parents can learn by helping their children, learn from their children who help them, or compete with their children to see who can master the most skills. Offering the same learner control, teamwork and formative feedback as our adult programs, along with a complete Spanish language program for young immigrants transitioning into English, Family Literacy increases the impact of high-quality early childhood programs.
Pre-K Literacy
Reading begins with hearing. Phonological awareness is required for reading success in Kindergarten and beyond. Pre-K Literacy from the Family Learning Company provides a sequence of scaffolded phonological awareness and phonemic awareness activities to carry young learners from hearing to alphabet knowledge to reading. Early high frequency vocabulary learning activities build necessary oral and reading vocabulary. And, engaging leveled readers with read out loud support provide essential first reading experiences. Young learners are even provided with an opportunity to write about pictures from the e-books they are reading, building the productive skills that will be so essential at the elementary level.
Elementary Literacy
Motivates learners to learn to completion by having them work in teams – with their friends or with their classmates. Teams work harder, learn faster and have more fun along the way. The software provides the same phonics and writing activities as their parents' software, while offering age-appropriate readings and vocabulary activities. In all, over 1,500 learning activities covering all six elements of literacy: phonemic awareness, decoding, vocabulary development, fluency, comprehension and writing, ensure that every child becomes fully literate.
Family Literacy from the start
HeadStart and other Pre-K programs are a great place to build a long-term solution to our national illiteracy epidemic. But, the benefits of high-quality Pre-K diminish over time. Family learning provides a solution. When parents get involved in their children's learning, the children learn more and the learning sticks. Let them team up with their children, doing learning activities together, reading together, writing together, learning together.
What if their parents aren't fully literate? Engage them in the exact same process that their children are going through. Give them a parallel experience learning reading, writing, social and emotional skills to better their own lives, and to model the use of those skills for their children. Or, let them compete with their children to see who can master their reading and writing skills faster. Either way, let the parent-child relationship carry the burden of providing the motivation, engagement and persistence that it takes to become truly literate.
REQUEST A CONVERSATION OR WEB DEMO
Request a Conversation or Web Demo today to see how The Family Learning Company's products can help your students.