Our Product - How it works
Family Learning Software
As far as we can tell, our Family Literacy Software is the only example of family learning software, a new market category we have created. For us, family learning software has two defining characteristics: (1) multi-generational content and (2) multi-generational usage.
Multi - Generational Content
For software to be family learning software it must include activities designed for children and activities designed for adults. This is exactly what Family Literacy Software does. The most obvious way to see this multi-generational content is to look at the kinds of readings included for children, youth, and adults.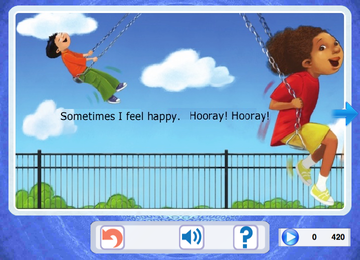 Pre-K
They are all children's picture books, some from the U.S. and some from Africa. They are primarily fiction, but include some non-fiction. They are "read" to children at the lower levels and children are expected to read them at upper-levels.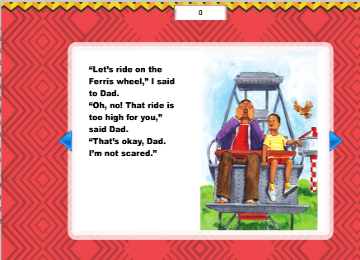 Elementary School
They are all children's picture books, some from the U.S. and some from Africa. They are primarily fiction, but include some non-fiction. At all levels, children can listen or read; at upper levels they read with a timer to test fluency. They e-books have increasing numbers of words as the levels of the software increase.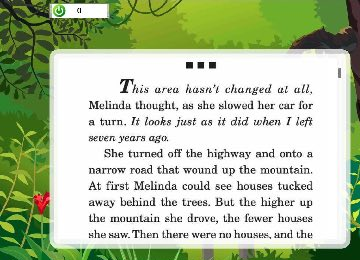 Middle School
Most of these books are hi-lo readers, that is, high interest/low reading level readers. There are also some graphic novels and a number of illustrated non-fiction e-books. There are always lots of words, but the reading level increases as the software level increases.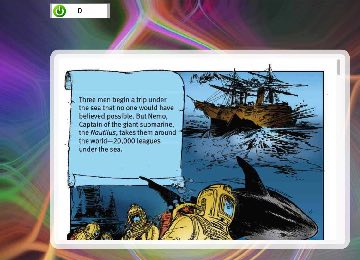 High School
Most of these books are hi-lo readers, that is, high interest/low reading level readers. There are also some graphic novels and a number of life-skill readings. There are always lots of words, but the reading level increases as the software level increases.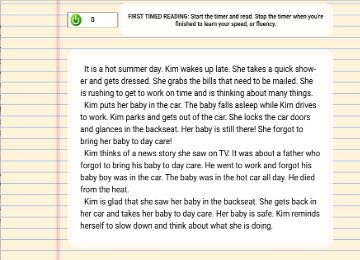 Adult
All of the reading select s are adult life-skill readings, such as wearing gloves at work, taking children to the dentist, walking form a better life, checking your blood pressure, and getting to work on time. They increase in difficult from (adult) Grade 1 to Grade 8 over the sixteen levels of the software.
Multi - Generational Usage

For software to be family learning software it must include activities designed to help children and parents learn together. This is exactly what Family Literacy Software does. There are a number of family features that encourage family members to learn together:
Multiple Logins
We encourage family members to work together by allowing multiple family members to log in at the same time.
Setting Learning Goals
A family selects a goal to achieve—consisting of a subject and a level—and an end date for its accomplishment. For this to occur, at least one other family member must "sign off" on the goal, that is, confirm that it has been properly completed.
Sharing Reports
All family members have access not only to their own reports, but to the reports of all other family members, even when they log in alone. This enables family members to follow their own progress and the progress of other family members, and to urge them to improve, and then see how everyone else is doing.
Individual Credit for Team Results
When multiple family members log in at the same time and master an activity, each team member's individual record-keeping account is updated. This way, all family members get individual credit for what the entire team achieves.
Comprehensive Approach To Literacy
One feature that sets Family Literacy Software apart from most other software is its comprehensive approach to literacy.
Six Components of Literacy
Current research has concluded that all successful literacy programs are comprised of the six components of literacy.
1. Phonemic Awareness
an understanding of sounds in language and how they form words,
2. Decoding
ability to figure out unfamiliar words and learn to read them automatically,
3. Vocabulary
know an adequate number of words to understand text passages.
4. Fluency
ability to read quickly and without conscious attention,
5. Comprehension
ability to understand the meaning, implications and intention of text, and
6. Writing
ability to express thoughts in written sentences and paragraphs.
9,700 Learning Activities
The other way in which Family Literacy Software is comprehensive is the huge number of activities the product includes; over 9,700 activities. These are distributed throughout the five modules (Early, Elementary, Middle School, High School and Adult Literacy) and across the two languages (English and Spanish).
Dual Language
The research is clear: Even if the only goal for a native Spanish-speaking child is to become literate in English, the fastest path to English literacy is to help that child become literate in Spanish first. It seems counter-intuitive (becoming literate in two languages is faster than becoming literate in one), but the research is clear. As explained in the 2006 report Developing Literacy in Second-Language Learners, successful literacy instruction for English language learners results when they build upon their prior knowledge, capitalize on opportunities for cross-linguistic transfer, and receive academic language and literacy instruction that is comprehensible. That is why the Early and Elementary Literacy modules of Family Literacy Software include full-immersion Spanish literacy activities. The Reading, Vocabulary and Writing activities are translations; the Phonics activities have been written specifically for the Spanish language.

Our dual language approach for young children is immersion; our dual language approach for older children, youth, and adults is transition. For Middle School, High School and Adult Literacy, the content for native Spanish speakers is in English and the help is in Spanish.
Learner Control
Learner-controlled software gives learners control through choice. Learners (both children and adults) choose their own challenges across a range of complexity; for example in reading, evolving from simple alphabet activities to the application of complex analysis to text. The key item that software cannot provide is a caring teacher. That's where family learning comes in: children can share a screen with caring parents, grandparents, aunts, uncles, or other caregivers., In this way, learner-controlled software provides truly engaging and effective learning experiences.
Family Literacy Software implements all of this best practice research by putting learners in charge of their own learning in order to maximize learning outcomes. Family Literacy Software is learner-controlled. This means that learners choose not only when and where they use the software, but also, what learning activities they perform—without limitations. They are free to choose any level, any activity, and to repeat activities as they wish/need. They use information about their performance on each activity, and about what they need to accomplish, to decide whether to repeat it, move on to a more difficult one, or to do something else entirely. The result is both long-term engagement and accelerated learning.
Reports

When most people think about assessment, they think about tests: medium stakes tests that measure learning at the end of a course module or the end of a course, or high stakes tests at the end of a schooling experience. While these tests provide valuable information about whether learning has taken place, they do not provide much information to students or teachers about why, and none about how to achieve mastery of the target skill or content. The direct feedback provided by well-designed software learning activities, and the reports it provides to students, provide valuable formative feedback.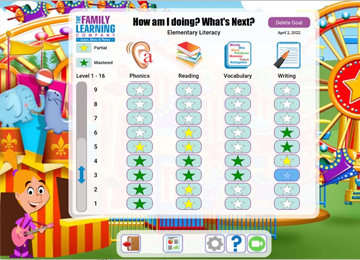 For the learner
Unlike most learning apps, there is no Reports button in Family Literacy Software. Rather, the learner's report is always visible on every menu in the form of stars: yellow stars indicate an activity has been started and green stars indicate the activity has been mastered.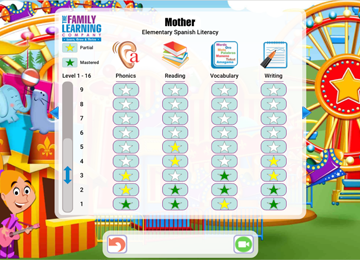 For the family
The only Report button in Family Literacy Software is for Family Reports. Parents can, of course, see reports for their children. But children can also see reports for their parents. In this way, every family member can encourage their family members to improve. They click the Family reports button and can use blue arrows to see the reports of all other family members.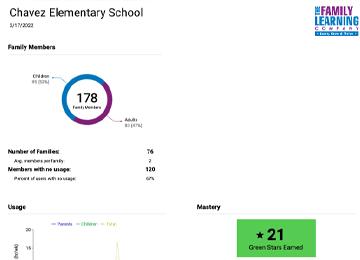 For the organization
Each organization—individual schools, entire school districts, individual nonprofits, entire corporations—can see a report summarizing how their families are doing using Family Literacy Software. These organization reports track both usage and mastery, for both adults and children.
Research Based
Family Literacy Software has an extensive research basis in third-party research on the methods it employs. In fact, we designed the product based on this extensive research. All of the research is available on our web site (with citations by clicking the Research tab), and some of it is summarized below (without citations).

Family Learning
Human beings are social learners. In a meta-analysis of studies investigating instructional practices that enhanced motivation for, and engagement in, reading, Guthrie and Humenick identified "opportunities to collaborate with other students in discussion and assignment groups to achieve their learning goals." In her seminal three year study of learning in families, Denny Taylor concluded that children are motivated to learn to read to participate in their family unit, not to access knowledge in the wider world.

Family learning is an approach to intergenerational learning. It acknowledges the family and its culture as the foundation of learning for the child. Family literacy recognizes the parent as the child's first teacher. According to Ruth Nickse's early descriptions of family literacy programs, intergenerational and family programs retain adult students longer, enhancing adult outcomes. And parental literacy predicts the literacy achievement of their children.
Learner control
In general, the large amount of research on the subject of student agency shows that "the degree to which students learn how to control their own learning … is highly related to outcomes." Furthermore, for computer-aided instruction, "when the student is in 'control' over his or her learning … then the effects were greater than when the teacher was in 'control' over these dimensions of learning." Students who feel that they are in control of their learning are more highly motivated to do the often difficult work of acquiring a new skill like reading. Studies by Kanevsky & Keighley on student engagement show that, "Five interdependent features … distinguished boring from learning experiences: control, choice, challenge, complexity and caring teachers. The extent to which these five C's were present determined the extent of students' engagement and productivity."

Formative Assessment
According to John Hattie, "the most powerful single moderator that enhances achievement is feedback." In their review of 196 studies describing nearly 7,000 effects on learning, Hattie and Timperley reported that formative feedback had an average effect size of 0.79 – an effect greater than student prior cognitive ability, socioeconomic background, and reduced class size.
Limited use of Animations
Humans are natural learners. The brain secretes Dopamine in its reward centers in response to a successful learning experience demonstrated by performance. First graders successfully reading new words and golfers who learn to hit straighter down the fairway both experience real pleasure from their achievements. They do not need animated figures to congratulate them, rapid-fire editing to keep them involved or good scores to tell them they succeeded. Performing a learned skill generates pleasure by itself. Even more important to learning, the gamification of learning activities actually reduces learning; reducing the value and the pleasure that learners receive from their use. Research by Michelle Donnelly (2) found that students who heard stories read out loud were 2.5 times more likely to remember their content than students who experienced them in animated interactive applications.
Vocabulary Development
According to Baumann, Kame'enui, & Ash, students' vocabulary knowledge correlates strongly to their reading comprehension and overall academic success. Robert Marzano's research has shown that direct vocabulary instruction on words related to content that will be on a test increases performance on that test from the 50th percentile to the 83rd. However, Horst, Cobb & Meara found that a minimum of 8-12 exposures must occur for retention with normal students of any new concept or word. Although teaching can make a real difference in vocabulary learning, the explicit teaching of vocabulary is not enough: a dedicated teacher can only teach perhaps 300-400 words per year. The solution to providing enough exposures to new words to master a complete academic vocabulary is comprehensive, well-designed software.